W
h

y Insurance Groups for Vans Differ
Van insurance groups can vary quite considerably even between different models of the same van. So you need to understand what group your van falls into so that you know how the grouping will affect the cost of your premiums.
QUOTES IN UNDER 5  MINS
SAVE £100's TODAY
NO CREDIT CARD NEEDED
This is especially true if you've yet to buy your van as it makes even more sense to know which groups are going to be the most cost effective for you. Having the information on the groups beforehand can help you to make a more informed decision on which van to purchase.
There is a governing body, made up of a number of representatives including Lloyds Market Association and the Association of British Insurers who regularly re-assess the list of categories to make sure that the list reflects the current market. This results in vans regularly changing from one group to another based upon recent trends of claims. For the cheapest to insure vans you should keep to the lower end of the scale of groups so aim for a van that falls into the 1 to 5 range.
To make things more confusing for us motorists there are currently two different types of groups for vans. The old 1-20 insurance grouping is still in use for older vans however they've now added another 30 groups to the list although the same rules apply meaning that vans in a low group are likely to be cheaper to insure than those in the higher group listings.
On top of the actual group listings they have also added a prefix letter to the group which is directly related to how secure your van is based on the security features it has fitted as standard.
These suffixes are;
A – Meets the standard as set out by Thatcham
D – Doesn't meet the standard which will likely result in the van being in a higher group
E – Exceeds the standard and is likely to be in a lower grouping
P – Stands for provisional and simply means that the van has yet to be given a rating
U – Unacceptable and doesn't meet the standards required
G – You'll find this suffix if a van has been imported
M
a

kes in the Lower Cost Groups include

Groups 1 to 5 – Citroen Berlingo, Citroen Nemo, Fiet Doblo, Fiat Florini, Ford Fiesta Van, Peugeot 206 Van, Peugeot 207 Van, Peugeot Bipper, Peugeot Partner, Renault Kangoo, Renault New Trafic, Vauxhall Combo, Vauxhall Corsa Van, Vauxhall Vivaro
If none of these are an option the next best choice would be one of these brands which straddle the lower end of the lists.
Groups 3 to 7 – Citroen Dispatch, Ford Transit Connect, Nissan Kubistar, Nissan Primastar, Nissan Vannette
However, don't forget that these listing will change from time to time and models will change their place in the listings. It is also possible that models will appear in more than one band.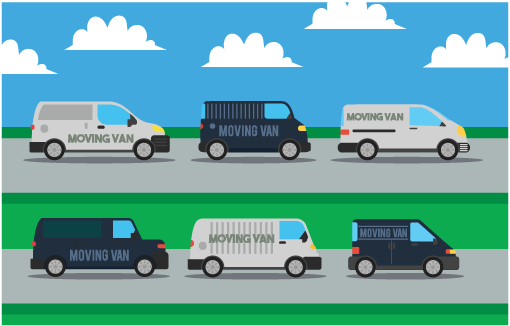 W
h

at Criteria Decides a Van's Position in These Groups

There are six things that the governing panel look at when deciding which groups a van will find itself in and these roughly equate to
Size – The most obvious fact is a vehicle's size with small vehicles being easier to drive therefore a lower risk to insure.
Weight – The same thing applies to a van's weight, the heavier it is the more difficult it becomes to drive.
Engine size – As with car insurance, the higher the vehicle's performance the greater the chance of an accident.
Cost of Repairs – This makes up two factors the first being if the parts needed to repair your van are expensive and the second being that if it is difficult and labour intensive to fix then the chances are that it will fall into a higher group.
Security – The harder it is for your van to be broken into or stolen will help to ensure that it is in a lower group.
Safety – Newer vans that are fitted with additional safety features such as the Autonomous Emergency Braking or AEB system will likely be positioned in a lower group. Likewise some vehicle's bumpers are better than others at reducing the amount of damage sustained in a bump. Should your van have these bumpers fitted you are likely to see this reflected in a lower grouping position and lower insurance premiums.
V
a

n Groups are not straightforward

As you can see, like most areas in the insurance industry the insurance group your van fits into is not straightforward but with the Quotezone comparison tool you can quickly compare policies from over 40 insurers no matter what group you find yourself in.