W
h

at type of cover do you need for your van
If you're a self-employed van driver looking to contract your services out, or start up your own small business, the world of van insurance can seem a daunting place. Unlike car policies, which fundamentally are split between personal and business use, van cover can vary dramatically depending on the type of work you do.
So what kind of cover best suits your needs? Are you a courier, delivering lots of parcels and small goods to a variety of locations? A long-haul driver taking one shipment at a time? Or are you just using your van as a means of getting yourself from A to B?
If you're not sure what the best policy type for your business is, we're here to help. Take a look at our handy guide to van insurance and make sure you're covered for everything necessary.
E
x

tent of cover

Most of us are familiar with the three levels of cover for motor vehicles – third party, third party fire and theft, and comprehensive. But what do they actually provide?

Third party is the minimum insurance cover required by law – designed to cover the cost of any damage you do to other people, animals or property. It's the cheapest option out there – but less isn't always more. If anything happened to you whilst driving, third party cover wouldn't give you any help towards medical costs or cover any repairs to your van.

Third party fire and theft is covers injury or damage to third parties (other people, items or property) but will also cover you and your van – if the problem is caused by fire or theft.

Comprehensive cover does exactly what it says on the tin, and will pay out on the majority of claims, from accidental damage to driver error – even if you're the only person involved. Of course, claiming does usually mean your next premium will rise, so it's not always in your interests to claim for every slight bit of damage – but it's good to know you could. This cover is the most expensive, for obvious reasons, but it's by far the most preferred choice for vehicle users, and one we'd definitely recommend if your livelihood (like that of a courier) depends on having a set of wheels you can use. For more information on levels of cover, Money.com have created this useful guide to insurance cover which offers a more detailed overview.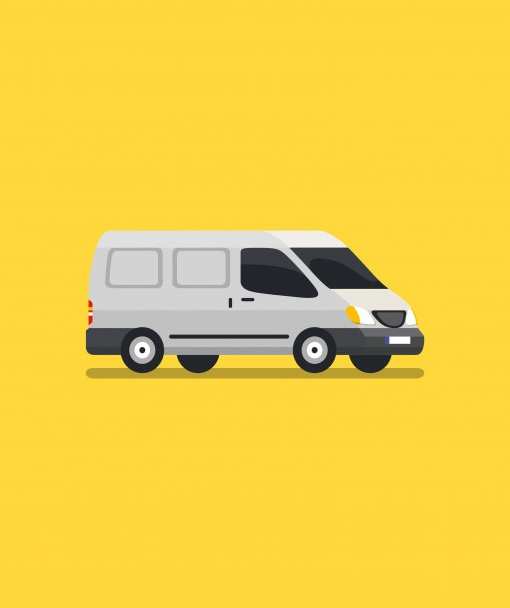 T
y

pes of cover

It doesn't just end with picking the best level of cover, though. For van drivers, insurance gets even more complicated – by ensuring you've got the right type of cover for your line of work. Otherwise, you run the risk of your insurance being declared invalid, and no claims being paid. When it comes to vans, it all depends on what the vehicle is used for:

Carriage of own goods

This is the cover you need if you use your van to transport yourself and any tools, equipment or materials to your place of work. Builders – indeed, anyone in the

building and decorating trades – will need this, along with window cleaners, gardeners and anyone else who provides a mobile service. People who create their own products and then deliver them – such as florists, cake decorators and caterers – are also included in this bracket.

Carriage of goods for hire or reward

The buyers of this kind of policy are the people who take items from one place to another in exchange for payment, such as drivers who deliver for online stores – though couriers can also get their own form of courier insurance, which covers the value of the goods on board in addition to the vehicle. This is a crucial aspect of getting the right insurance, as couriers are prime targets for thieves and can be held accountable for any undelivered – and unaccounted-for – parcels. This type of policy also encompasses removals vans where the company is responsible for collecting the furniture and delivering it to an alternative location – self-hire vans are a different kettle of fish, and require very different insurance.

Haulage

This is for the drivers who are taking one shipment of goods a long way, such as HGV drivers, although occasional other drop-offs are permitted. It's rare for these policies to be taken out on an individual basis; they're more likely to be insured as part of a fleet belonging to a reputable haulage firm.
W
h

at about the actual goods?

So you've got the vehicle covered, and yourself – but what about the vehicle contents? The fourteen boxes in the back that you've got to deliver? The valuable tools of your trade?

Known as 'goods in transit' cover, many business policies don't automatically include cover for the cost of the goods in your vehicle at any given time. As this is a crucial aspect of business for most van drivers, it's definitely worth checking with your insurers as to whether you're covered, and up to what amount. This will mean that if your van is broken into and the contents stolen (a more common occurrence than you might think, especially in the lead-up to Christmas) or you're in an accident and some goods are damaged, your insurance will cover the cost of replacing them. To get goods in transit as part of your policy, you might need to pay for an additional bit of cover in conjunction with your main policy, but that depends son individual insurers. And, regardless of cost, it's worth every penny.
G
e

tting the right cover

Once you're aware of the cover you need, you can start searching for the best quotes. With up to date pricing and competitive rates, Compare Van Insurance uses 62 specialist insurers to give you the most comprehensive quotes on your van policy, so you can find the quote that matches not just your expectations of service, but also of price. You can even look at specialised quotes to meet your company's van needs, and find the one that works for you.